A Happy New Year!
We were able to welcome the New Year in good health this year as well. This is also thanks to our employees and all other related parties. I would like to express my sincere gratitude.
In addition, I am very pleased that last year TPEC worked together to take on and implement a variety of initiatives.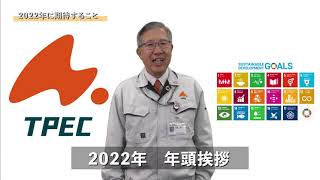 ●In the year 2022(excerpt from New Year's greetings)
The automotive industry is experiencing rapid changes in CASE, and new trends such as carbon neutrality and SDGs are pushing forward. Environmental changes are taking place at a pace that differs in quality and speed from those in the past. As for carbon neutral, two years ago, the government declared the realization of carbon neutral in 2050, which is a very important social issue. In addition, digital transformation (DX) is expected to accelerate further, and making maximum use of digital engineering to realize a sustainable society will be a top priority in all situations.

In light of this situation, we intend to further accelerate the following three initiatives this year.

The first is "to create a strong workplace that will lead to the next era".
Currently, the workplace is facing major changes in the environment, such as changes in working styles following the Corona disaster, and the pace of change is expected to increase even further in the future. Accordingly, the Company is committed to taking on the challenge of reforming "working styles" and "job satisfaction" for the new era. We will improve our personnel system to accommodate diverse human resources and work styles, and create a workplace environment that enables employees to work with pleasure and a sense of fulfillment while working in an exciting and healthy manner. I would very much like to see the people of TPEC take on the challenge of creating a "strong workplace" that will lead to the next era by confronting change and changing your own ways of working. Last year, we formulated a path to VISION2030, and realizing these goals depends on your "thought and action." Let's move to think and act thoroughly about what you want to do ourselves, and realize the ideal shape of VISION2030: "Creating new value and co-creating an exciting everyday life and a thrilling future".
The second is "Efforts for the Future of Monozukuri."
This year, we will actively approach next-generation manufacturing made by DX (Digital Transformation). We intend to put the process devised by the Process Innovation Div. into practice and work to realize production preparation DX and factory DX through solutions for issues such as efficient production preparation and autonomation and labor saving at factories. In addition, as automobiles are becoming increasingly electrically powered worldwide, TPEC intends to actively enter the field of batteries by leveraging its expertise and expertise accumulated in various fields to date, as well as its expertise in digital engineering. Of course, it goes without saying that we will be able to make such efforts for the future both "so far" and "now" thanks to your efforts to build a solid corporate foundation by making efficiency and productivity improvements desperately. We will continue to strive to work at each stage and grow into a company that can "lead the world by deepening and innovating manufacturing" as outlined in VISION2030.
The third issue concerns "SDGs".
In recent years, social awareness of SDGs has been increasing, but we aim to realize SDGs through the promotion of the strategies outlined in our medium-term management plan to solve social issues through our core business.
We have also formulated TPEC Environmental Challenge 2050 to actively address environmental issues and are promoting activities accordingly. Last year, in Munakata City, where our head office is located, they announced the "Zero Carbon City Declaration." We would like to actively participate in and fulfill our responsibilities as a corporate citizen. I would very much like you to raise the awareness and activity level of each and every one of you, and take it as your own and "think and action."

Now, TPEC is celebrating its 15th anniversary this year. We have evolved and developed as a company while taking over the various activities and various philosophies that we have built and working on each of our jobs at each stage. Approximately 10 years until VISION's goal. Now you may still feel like a distant future goal. But thankfully, we are blessed with many colleagues both inside and outside the company. I believe that we can realize what we aim for by having each person think and action with their colleagues while respecting each other with conviction and enthusiasm. "Let's become a "OneTeam" with a "cheerful, fun, energetic" and smile towards our dreams, and connect the batons to the future!!"

Akitomo BABA, President